Review | The Vanishing of Ethan Carter
Playing The Vanishing of Ethan Carter feels like that moment in your young years when you're crossing the street for the first time by yourself, without your mother there to hold your hand. And if you jumped into the game without checking out any trailers or news about it whatsoever, like I did, the feeling is much more intense. I honestly did not know what to expect from this game. In my total ignorance, I thought it was a horror survival type of adventure. What I did know for sure was that it was special. In which way, I had no idea, but you feel it the moment you take your first step into the game's universe.
Your shoes are filled by Paul Prospero, a psychic detective whose job is to find out the whereabouts of a boy called Ethan Carter. And so you're summoned to a quiet little town in order to get track of the missing boy by solving puzzles and piecing together whatever evidence you can gather.
The first thing you notice is the absolute freedom the game gives you, opening all of its areas from the start, which makes reaching the end area possible at any time during the game. But in order to reach the game's real ending and solve the mystery of Red Creek Valley you must solve 10 puzzles that may, or may not be linked together. Again, the game does not tell you to do any of this; actually, the game does not suggest one thing the whole playthrough. It's all up to you if you want to make it to the end of the story or not. While the slow pace of the character makes the game a bit dull, the rewards for solving every puzzle are indeed worthwhile and will definitely squeeze some 'what the hell?'s from you.
The puzzles themselves are not too difficult, but they are challenging enough to give you some sort of satisfaction each time you solve them. Some may be obvious from the start, while some may take a while to digest, but they are all worth your time. And being a psychic helps a lot, giving you the ability to "sense" where clues are and re-live events concerning Ethan and his family. And once you get through your first two or three puzzles, the pace of the game increases and makes things easier (though not less interesting).
The game's world is ridiculous when it comes to environmental details. Even though there are a lot of things that have nothing to do with the puzzle solving or the story itself, they make the world believable and they create this rich and thick surrounding that unveils itself as you progress in solving the mystery. Also, every clue and every piece of evidence is carefully placed in a way that makes sense and makes it easy for the player to find it, if they pay attention to their surrounding and their psychic ability which sometimes creates some sort of tear a la Bioshock Infinite that allows them to see where such key items are hidden. This, along with simple gameplay mechanics like picking up items and reading notes, add up to create a natural feeling that suits the game like a glove.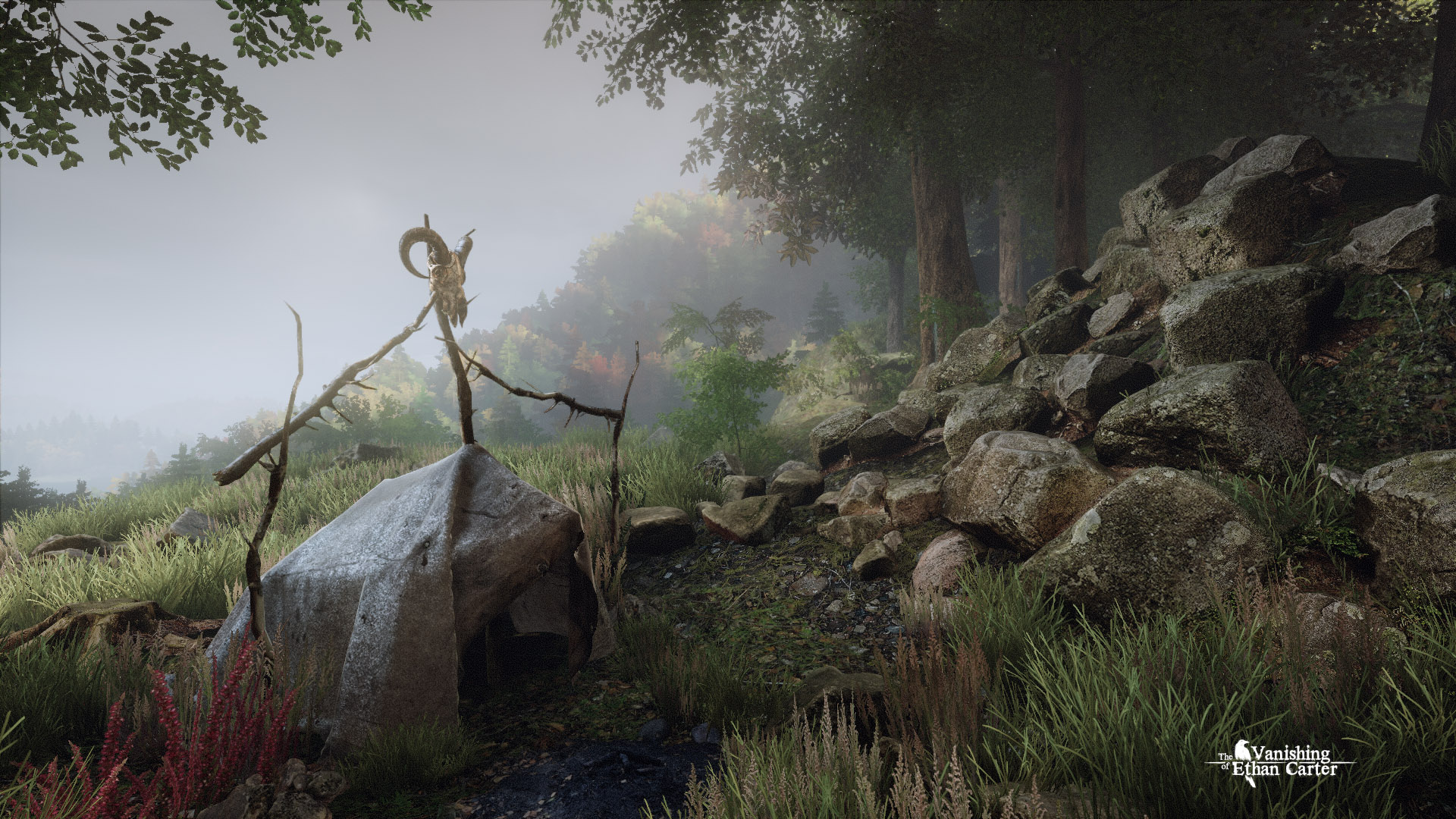 Making up for the long walks you need to take while exploring the environment is the game's visual design. While it does not look extremely detailed up close, it has really stunning views. From the distant lake and forests, to the deep dark mines, the game looks gorgeous, creating a beautiful atmosphere which hugs the player from the start and never lets go. The soundtrack adds to this feeling with music and sounds that are both serene and creepy at the same time, tingling the player's ears at each step until they are not noticeable anymore. That is, until they disappear completely, evoking a terrifying sense of solitude.
The Vanishing of Ethan Carter is a stunning and weird game that has a lot more in stock that it shows at first, and I can barely hold my tongue to tell you all kind of crazy stuff you'll experience while playing it so I won't spoil it for you (cough ancient Gods and astronauts cough). Even if you're skeptic at the beginning, make sure you devote three or four hours and get lost in the game's incredible universe. After all, getting lost is the best thing you could do.
Final score: 10 out of 10